Trainer Spotlight: Mary Claire Engel
May 24, 2022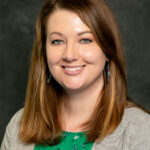 Q: How long have you been an Ukeru trainer?
I have been an Ukeru trainer since January 2020 and my facility has been implementing it since August 2020.
Q: What population do you work with? What inspired you to get into this field?
I work with children with exceptional needs at High Road School of Wright City. Many things brought me to the field but what keeps me in the field is a daily sense of purpose and passion.
Q: What part of Ukeru do you enjoy teaching the most and why?
I love teaching the portion of Ukeru related to transgenerational trauma (starting with the rat study). It really brings together all the information related to understanding behaviors as survival habits.
Q: What would you say to someone who is unsure about using Ukeru?
Take it one step at a time! Ukeru is so much more than just eliminating restraint. Determine to be open-minded and know that your Learning Engineers are an incredibly helpful group of people to provide encouragement, problem-solving, and question-resolution.
Q: What advice or tip would you give to a new Ukeru trainer?
It is crucial to not train on Ukeru once a year, certify your people, and then let it fade into the background. Intertwine the philosophy into all aspects of your programming – process incidents under the lens of behavior as a survival habit, arrange the physical and psychological environment with universal trauma precautions in mind, and embed sensory regulation as a daily component of programming.
Q: How has Ukeru impacted your life?
Ukeru, hands down, is the most life-changing training I have been through and taught. Ukeru not only changed the culture of my workplace from institutionalized to warm and welcoming, but it gave my staff the skills and knowledge to understand and mitigate the impact of their own trauma and resist burnout. It drives my leadership philosophy.
Q: What is your favorite quote or a motto that you like to live by?
"Relationships are the agents of change and the most powerful therapy is human love." -Bruce Perry
Q: What three words would you use to describe Ukeru?
Revolutionary, powerful, kind.