Grafton's Ukeru Wins National Council 2013 Impact Award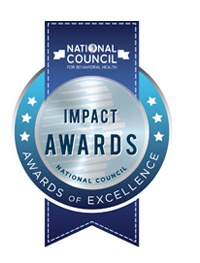 Grafton Integrated Health Network wins the National Council 2013 Impact Award for "Excellence in Behavioral Healthcare Management." The Excellence in Behavioral Healthcare Management Award recognizes an organization that has demonstrated effective and innovative programs currently in use to minimize risk and liability. These programs improve the operation of the organization or the lives of the people it serves.
Grafton's submission to the National Council, Ukeru, the "Least Resistance" Approach to Crisis Management highlights the company's commitment to not only reducing the use of coercive interventions, but also replacing these procedures with alternatives that produce a safer working and learning environment for all. Ukeru was Grafton's first alternative solution and it involves the use of soft, cushiony materials to protect oneself against aggressive behaviors and the use of protective equipment such as gloves, shin guards and umpire shields to protect clients and employees. Ukeru is about receiving, engaging, sensing, feeling and responding to what someone is trying to communicate to us through their actions while maintaining the safety of all involved.
"Our restraint reduction effort was pioneered in our residential services for consumers with intellectual and developmental disabilities. It has achieved remarkable and sustained results. The principals we developed during this process have been extended over all of the populations we serve, including those with psychiatric or educational challenges. It is rooted in a fundamental belief in self-determination and the power of choice, and this is what makes it effective throughout our entire continuum of care", said Jim Gaynor, CEO/President.
Each year, the National Council honors distinguished behavioral healthcare individuals and organizations that have set themselves apart through its Impact Awards. Honorees reflect the most innovative and inspirational work happening in behavioral healthcare organizations across the country — staff, board leadership, volunteers, consumers, families, and community partners who are changing the lives of children, adults, and families with mental illnesses and addiction disorders. For more information, go to thenationalcouncil.org.
Grafton will be formally honored at the 2013 National Council conference scheduled April 8-10 in Las Vegas, Nevada. The organization will also receive a cash prize of $10,000, to be donated to a non-profit organization of their choice.
About Grafton Integrated Health Network
Grafton Integrated Health Network is a private, nonprofit organization that has provided a full continuum of services to people overcoming emotional, behavioral or developmental challenges. As an industry leader in behavioral healthcare, we empower individuals to lead better lives. Grafton provides continuous and coordinated services from short-term stabilization and residential services to outpatient to educational and career and technical training. These programs along with a data-driven, trauma-informed model help the organization to develop successful plans of care and clients to thrive in a variety of settings.
Grafton provides a continuum of services to children, youth and adults including applied behavior analysis, early intervention, psychiatric residential treatment facilities, a short-term stabilization program, special education programs, community-based group homes, intensive outpatient program and outpatient services.