Trainer Spotlight: Jon Zinniel
July 19, 2021
Recently, Ukeru sat down with trainer Jon Zinniel from Chileda, an organization in La Crosse, Wisconsin. Jon has been a Ukeru trainer since December of 2018. He has seen the difference the training has made at his organization, a place that, according to Jon, has the "most caring and loving individuals" with cognitive challenges and significant behavioral needs.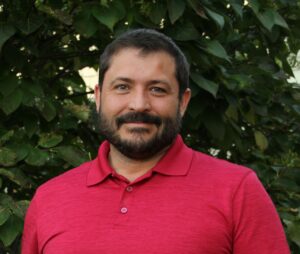 Q: How long have you been an Ukeru trainer?
I was certified as an Ukeru trainer in December, 2018.
Q: What population do you work with? What inspired you to get into this field?
At Chileda we work with some of the most caring and loving individuals, primarily youth, who have cognitive challenges and significant behavioral needs.
I never thought of working in this field until I met a good friend in one of my psychology classes in college. I needed a job and my friend said that Chileda is a lot of fun. I applied and started working direct care in the evenings. Within months, I was hooked and grew into additional roles and positions. After 24 years, I'm still here and feel blessed to work at such an amazing organization.
Q: What part of Ukeru do you enjoy teaching the most and why?
I am fascinated with the brain. With Ukeru, you learn about how the brain works and the effects of trauma on the brain. When I am training others, my favorite topic to teach is the section on therapeutic communication – tone, volume, rate of speech, vocabulary and body language. We have our participants practice these skills through role playing and they appreciate the chance to receive feedback in a safe environment.
Q: What would you say to someone who is unsure about using Ukeru?
When people ask me why they should consider Ukeru, I respond with three main points. First, Ukeru is very trauma sensitive, with a focus on comfort, care, and respect. Second, there have been a number of times at Chileda where I wished I had something to keep myself and others safe during a crisis. Ukeru's soft, transportable pads provide that safety and security. Third, in less than a year of implementing Ukeru, we greatly reduced emergency intervention and employee injuries.
Q: What advice or tip would you give to a new Ukeru trainer?
My advice to new Ukeru trainers is to make the material conversational. This will take effort and time. It's important to practice and think of personal stories that relate to the material. Stories are so powerful; they illustrate the main points and make the material more relatable, entertaining, and understandable. The time you spend preparing upfront will make training the class so much more enjoyable and valuable to the participants and for yourself. My second piece of advice is to stay connected with the people at Ukeru. They are extremely kind and thoughtful, always willing to help with any challenge I send their way.
Q: How has Ukeru impacted your life?
When I first learned Ukeru, a number of concepts resonated with me like "Comfort vs. Control" and the "Universal Precautions" for being trauma-sensitive. We trained on these concepts before Ukeru, but didn't have a name for them. Ukeru has given us a name for these approaches and has made it easier to discuss these concepts within the agency.
Q: What is your favorite quote or a motto that you like to live by?
Two of my favorites include:
"People don't care how much you know, until they know how much you care" – John Maxwell
"People will forget what you said, people will forget what you did, but people will never forget how you made them feel." – Maya Angelou
To me, these two quotes sum up Ukeru.
Q: What three words would you use to describe Ukeru?
Respect, Compassion, and Safety.