Trauma-Informed Changemakers: A Conversation with Hannah Grieco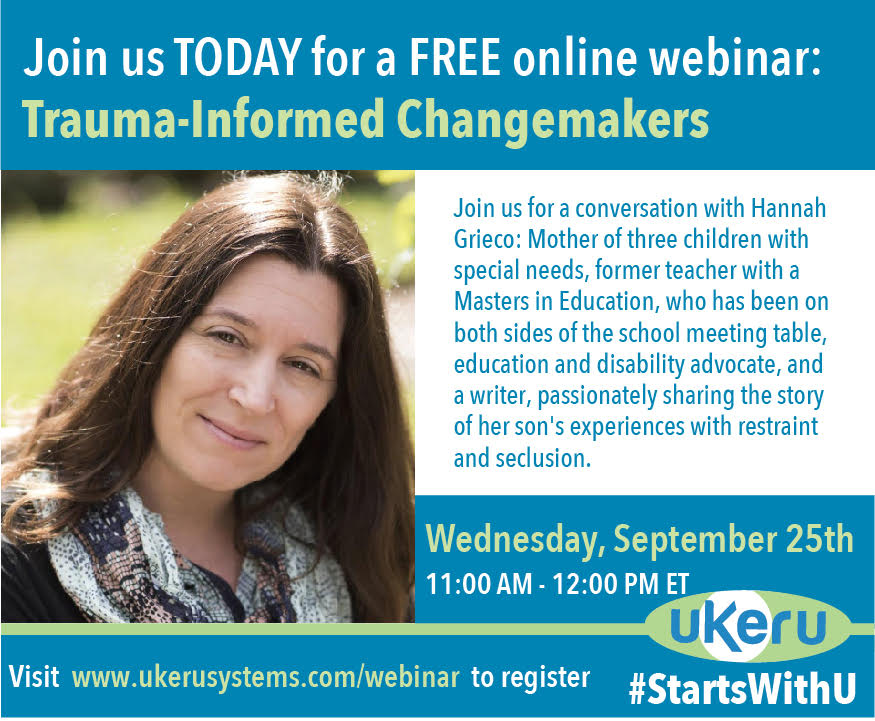 Trauma-Informed Changemakers: A Conversation with Hannah Grieco
Ukeru recently embarked on a new webinar series in which we are speaking with individuals effecting positive change, helping reduce the use of restraint and seclusion, and driving a culture of comfort vs. control.
The first in this series was a discussion with Hannah Grieco. Hannah plays many roles. She is a mother of three children with special needs. She is a former teacher with a Masters in Education, and has, therefore, been on both sides of the school meeting table. She is an education and disability advocate, passionately sharing the story of her son's experiences with restraint and seclusion. And she is a writer, with a powerful platform to educate others on the benefits of a trauma-informed approach. Through her work, Hannah has spoken with – and helped – hundreds of concerned mothers and fathers. Her essays and stories hit home with good reason. This piece from the Baltimore Sun is just one example of her moving and uplifting work. More examples of Hannah's work can be found at www.hgrieco.com.
On this webinar, Ukeru's President, Kim Sanders spoke with Hannah about her family's experience with restraint, the transition from public to private school and back again, and her mission to help other parents navigate often confusing terrain.
A recording of the webinar is available here.
Follow the Conversation:
We encourage participants to add your voice to the conversation by using the hashtag #startswithU on Twitter.