Webinar: The Prevalence of Restraint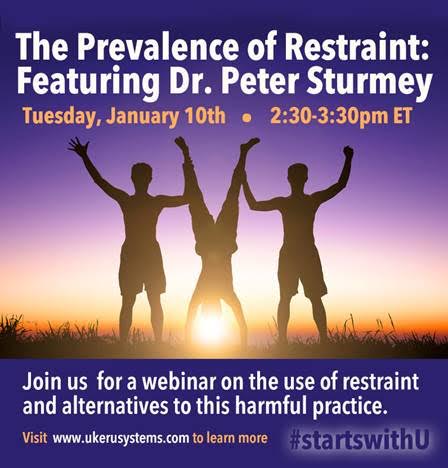 The Prevalence of Restraint: Featuring Dr. Peter Sturmey
Ukeru hosted a webinar on Tuesday, January 10th on the use of restraint and alternatives to this harmful practice.
Webinar Overview: 
When: Tuesday, January 10th, 2:30-3:30pm ET
Where: View the recording of the webinar here. 
This conversation covered:
The prevalence of restraint;

Alternative methods to restraint; and

Organizational interventions.
Time was also allotted for participants to ask questions.
About the Panelist:
Professor Peter Sturmey is Professor of Psychology at The Graduate Center and the Department of Psychology, Queens College, City University of New York where he is a member of the Behavior Analysis Doctoral program. He is also an Honorary Professor of Psychology at the Division of Health and Social Care Research, Kings College, London. He specialized in autism and other developmental disabilities, especially in the areas of applied behavior analysis, dual diagnosis, evidence-based practice, and staff and parent training.
Follow the Conversation:
We encourage participants to add their voice to the conversation by using the hashtag #startswithU on Twitter.