Welcome Ray Crosen to the Ukeru Team!
November 10, 2018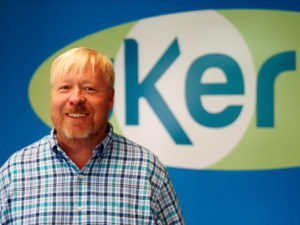 Just as the demand for Ukeru continues to grow across the country, so does our awesome team!  We are very excited to welcome Ray Crosen.  He has been in behavioral healthcare for nearly 30 years and we are lucky to have him.  Check out the recent interview with Ray below so you can get to know him better and see why he supports the Ukeru philosophy:
Q: Why did you want to work in behavioral healthcare?
A:  When I was younger, I spent many years working in a factory as both a line worker and a manager. Although I enjoyed working with others, I did not find this line of work meaningful. Twenty-nine years ago, I decided that I would try my hand at something new and applied to work at Grafton. I did not realize what a fateful decision that was. Thanks to Grafton, I found both personal and professional fulfillment.
Q: What is your background at Grafton?
A: I have held a variety of jobs from a Direct Support Professional up to the Residential Administrator.  I have also worked in all regional areas within Grafton, and have used my interpersonal skills to build a rapport with staff members, parents, and various agencies and organizations. I embraced the challenges and benefits presented by any position I was afforded. My staff members know that I am a hands on leader and that I wouldn't expect them to do a job that I wouldn't do myself.
Q: Do you have a favorite story from your career?
A:  About 14 years ago, Grafton was in need of a program to change the culture of the organization in order to reduce the high number of restraints. As special projects manager, I was on the team that developed the program, Extraordinary Blocking, which Ukeru is based upon. At that time, we were trying to find acceptable items we could use as blocking pads. My coworker and I went to a local department store and loaded carts with large pet pillows. These turned out to be so bulky and heavy that we were having difficulty maneuvering the carts through the aisles. The two of us were pushing carts, catching pillows that were falling, and just trying to make our way to the front of the store. We were laughing so hard we had tears in our eyes and shoppers and employees looked at us as though we were crazy. One asked what we were going to do with all of the pillows and we told her we were using them as floor cushions.
Q: Why is Ukeru unique?
A:  Prior to developing this program, Grafton's culture was one of restraints and unintended injury. Ukeru's uniqueness spearheaded a cultural change within the organization. We are now virtually restraint free as an organization, and injury rates have been decreased. This affords more safety and dignity to our clients.
Q:  What does utilizing a trauma informed approach mean to you?  How has it affected your work?
A: To me, a trauma informed approach means knowing a person's history and the major events that led to them responding in a negative way. It is very important to recognize the impact that trauma has on an individual. When you have a clear knowledge of the whole person you will have a more successful interaction with them and decrease the chance of re-traumatizing them unintentionally.
Q:  What would you say to those who tell you a restraint free environment can increase risk or that it wouldn't work for certain populations/in certain settings?
A:  I would have to disagree with the naysayers. I was with the organization before Ukeru was put into place and remained there after it was implemented, so I have a unique perspective. I would have to tell them about all the good it has done for the organization. It keeps clients and staff safe. It is a cultural philosophy and I have seen changes across all populations and all settings. But most of all, I'd tell them it works!
Q: What would you say to an organization considering Ukeru?
A:  I would highly recommend that they consider Ukeru. The Ukeru system offers crisis management techniques that put safety and dignity first.
Q: What do you like to do in your free time?
A: I would say that, in general, I like to explore. I enjoy traveling, relaxing on the beach, and am interested in places with historical significance. I enjoy spending time with my family, antiquing, collecting, and listening to music.